Prairie Doctor Brand
Regular price
Sale price
$17.00 USD
Unit price
per
Sale
Sold out
Description

Introducing our VSSJ Tincture, a synergistic fusion of Valerian, Skullcap, and St. John's Wort – a trio of herbs. Valerian, recognized for its potential calming effects, blends harmoniously with Skullcap, celebrated for its relaxing properties, and St. John's Wort, known for its mood-supporting qualities. Together, they form a powerful alliance designed to help you navigate the demands of daily life with a sense of balance and tranquility.
Benefits

May help with the following:

- Calming and relaxing
- Mood Support
- Sleep aid

All potential benefits of each herb may transfer to this blend.
How to Enjoy

Take the recommended serving by placing it under the tongue and swallow for best results or add it to your preferred beverage.

Recommended Dose: 1.1-2ml 1x per day (30 minutes before bed)

Warning: Hot Beverages may affect efficacy of the product

Ingredients & Info

NPN: 80032677

Ingredients: Organic Non-GMO Cane Alcohol, Distilled Water. Below quantities are mg/ml.

Organic Valerian Root (1:4, 250mg/m) 83.3mg
Organic Skullcap (1:4, 250mg/ml) 83.3mg
Organic St John's Wort (1:4,250mg/ml) 83.3mg
Extraction: 1:4

Alcohol: 50%

Grown: Organic

Origin: USA/Chile (St Johns Wort)

Risk Info:

Consult a health care practitioner when using our organic Valerian, Skullcap and St John's Wort tincture if:
Sleeplessness persists continuously for more than 3 weeks (chronic insomnia).
Symptoms persist or worsen.
You are taking conventional medication, such as contraceptives, HIV-1 protease inhibitors, non-nucleoside reverse transcriptase inhibitors, immunosuppressants, anticoagulant, digoxin, theophylline, serotonergic antidepressants, migraine therapies, SSRIs and/or anti-epilepsy drugs.
Prior to use if you are taking anti-anxiety medications, anti-seizure medications, antihistamines, bronchodilators, muscle relaxants and/or opiates.
Consumption of Valerian, Skullcap and St John's Wort with alcohol, other drugs or natural health products with sedative properties is not recommended. Exercise caution if operating heavy machinery or driving a motor vehicle within 2 hours of consumption.
Avoid prolonged exposure to sunlight, ultraviolet light (UV) or UV therapy.
Hypersensitivity, such as an allergy, has been known to occur; in which case, discontinue use. Some people may experience mild gastrointestinal disturbances, nausea, restlessness and/or headaches.
Do not use if you are taking anti-cancer medications, blood thinners, antidepressant medications (e.g. selective serotonin reuptake inhibitors (SSRI), anti-HIV agents, cardiovascular medications, immunosuppressants, and/or contraceptive medications.
Share
View full details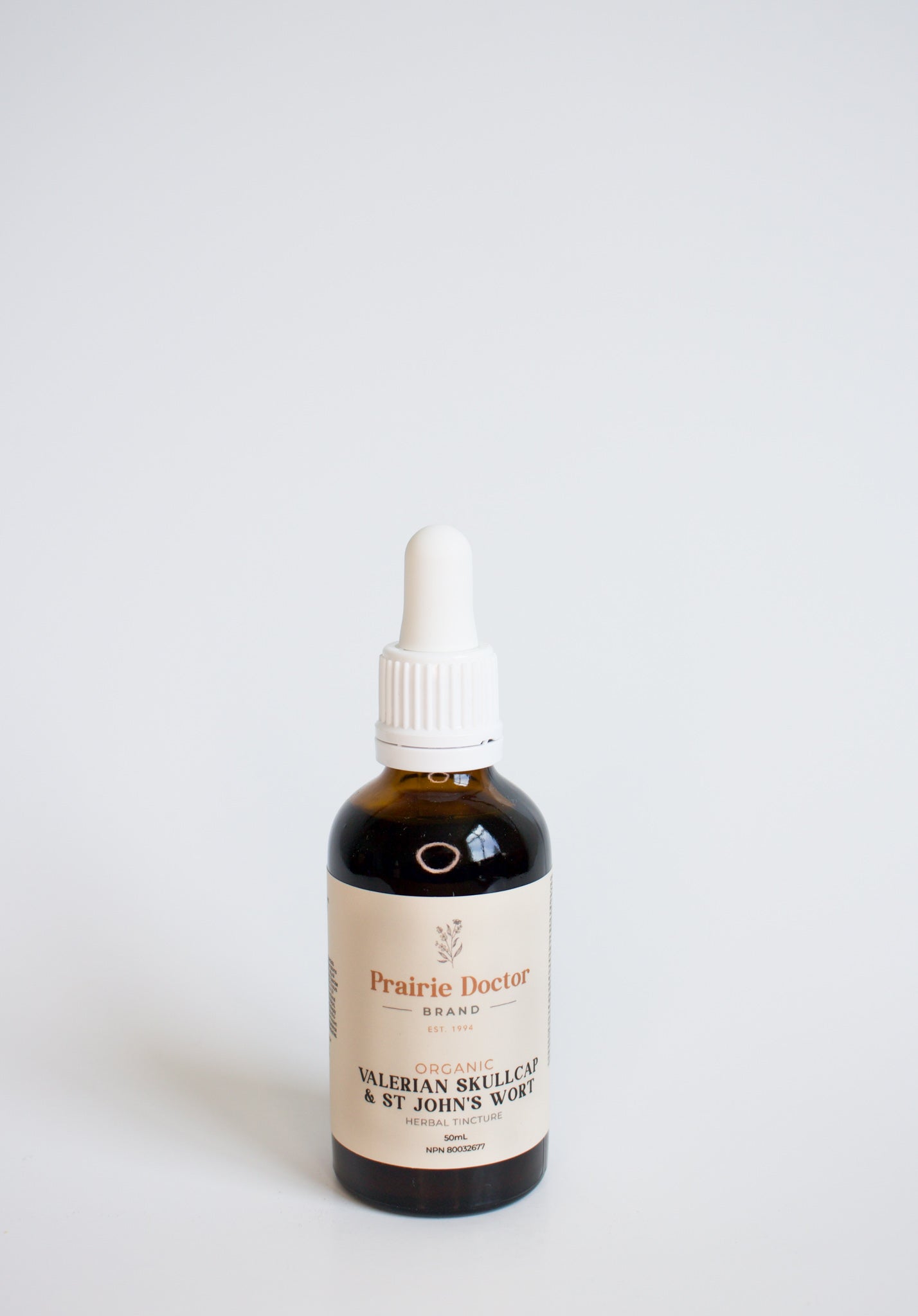 It did not help me
I ordered this product to try to help with sleep problems. It gave me the most massive headache. I think it was the skull cap, but not sure.