Prairie Doctor Brand
Regular price
Sale price
$15.00 USD
Unit price
per
Sale
Sold out
Description

Introducing our St. John's Wort Tincture, a gentle tribute to the radiant essence of this revered botanical. Native to Europe and parts of Asia, St. John's Wort has a history intertwined with herbal traditions. Our St. John's Wort Tincture embodies our commitment to authenticity, carefully crafted to honor the plant's natural growth and historical significance. Celebrated for its potential mood-supporting benefits, St. John's Wort is thought to promote a positive outlook and emotional balance, making it a thoughtful addition to daily routines. The essence of our St. John's Wort Tincture is carefully extracted, capturing the use and aroma of this remarkable herb.
Benefits

May help with the following:

- Mood support
- Natural relaxation
- Nervous system support
- Skin health
- Sleep support
- Neurological health
How to Enjoy

Take the recommended serving by placing it under the tongue and swallow for best results or add it to your preferred beverage.

Recommended Dose: 1.6-3.2ml 3x per day (minimum of 1 week, Consult a Health Care Practitioner for use beyond 18 weeks))

Warning: Hot Beverages may affect efficacy of the product
Ingredients & Info

Latin Name: Hypericum perforatum

Part Used: St John's Wort Flowering tops

NPN: 80001788

Extraction: 1:4 (250mg/ml)

Alcohol: 50%

Grown: Organic

Origin: Chile

Ingredients: Organic St John's Wort Flowering tops, Non-GMO Cane Alcohol, Distilled Water.

Risk Info:

Avoid prolonged exposure to sunlight, ultraviolet light (UV) or UV therapy when using our organic St Johns Wort herbal tincture.
Consult a health care practitioner if symptoms persist or worsen.
Consult a health care practitioner prior to use if you are pregnant or breastfeeding.
Consult a health care practitioner to use if you are taking antianxiety or seizure medications, antihistamines, bronchodilators, muscle relaxants and/or opiates.
Do not use this product if you are taking anti-cancer, antidepressant [e.g. selective serotonin reuptake inhibitors (SSRI)], cardiovascular, contraceptive medications, blood thinners, anti-HIV agents and/or medications to suppress the immune system (immunosuppressive medications).
Stop use if hypersensitivity/allergy occurs.
Some people may experience mild gastrointestinal disturbances, nausea, restlessness and/or headaches.
Share
View full details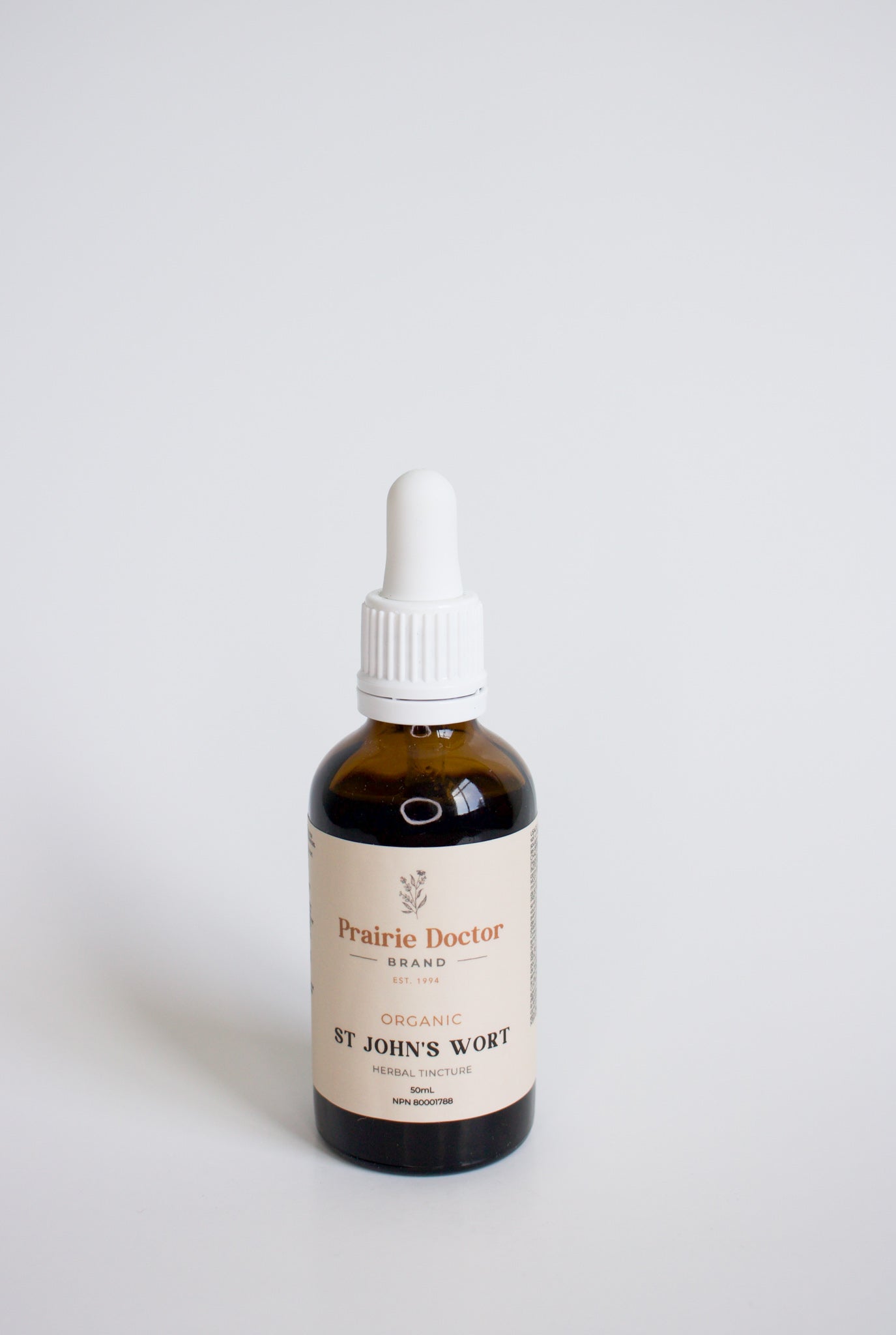 Horrible taste but effective!
A big fan of herbal tinctures for their absorption and bioavailability, I decided to start taking SJW tincture after having been off SJW for a few years. Previously I took capsules and had good results, so this should work as well if not better.
Update: I noticed I was feeling better about three weeks after starting to take this tincture. ☀️ The taste is pretty awful (sorry to say!) and hasn't gotten much easier despite taking it three times each day. It's well worth that pain though. I expect to be taking this for a long time.