Prairie Doctor Brand
Regular price
Sale price
$15.00 USD
Unit price
per
Sale
Sold out
Description

Hawthorn, a cherished member of the rose family, finds its origins intertwined with the landscapes of Europe and North America.

From the crimson berries to the vibrant leaves, every part of this remarkable plant carries significance. Our commitment to sustainability echoes in every drop of our Hawthorn Tincture, a product of conscientious cultivation and sourcing.

Hawthorn, with its rich history of use, holds a special place in herbal lore. Revered for its potential benefits, it has been embraced as a tonic for cardiovascular health and a source of overall well-being. Just as hawthorn has stood the test of time, our commitment to quality and sustainability endures.

The heart of our Hawthorn Tincture lies in the careful extraction of its vital constituents. Flavonoids, oligomeric procyanidins, and other compounds come together, ready to infuse their potential into your daily routine.

Benefits

May help with the following:

- Heart health
- Cardiovascular ability and health
- Menstrual discomfort
- Cholesterol balance
- Anxiety and stress
- Digestive health
How to Enjoy

Take the recommended serving by placing it under the tongue and swallow for best results or add it to your preferred beverage.

Recommended Dose: 1-2ml 3x per day (Use for a minimum of 2 months to see beneficial effects.)

Warning: Hot Beverages may affect efficacy of the product
Ingredients & Info

Latin Name: Crataegus laevigata

Part Used: Hawthorn Leaf, Flowers, and Berries

NPN: 80010553

Extraction: 1:4 (250mg/ml)

Alcohol: 50%

Grown: Organic

Origin: Eastern Europe/South America

Ingredients: Hawthorn Leaf, Flower and Berry (50% leaf, 50% Leaf/Flower), Organic Non-GMO Cane Alcohol, Distilled Water.

Risk Info: Consult a health care practitioner if symptoms persist or worsen before using our organic Hawthorn herbal tincture. Consult a health care practitioner prior to use if you are taking cardiac glycosides such as digitalis/digoxin, or blood pressure medication.
Share
View full details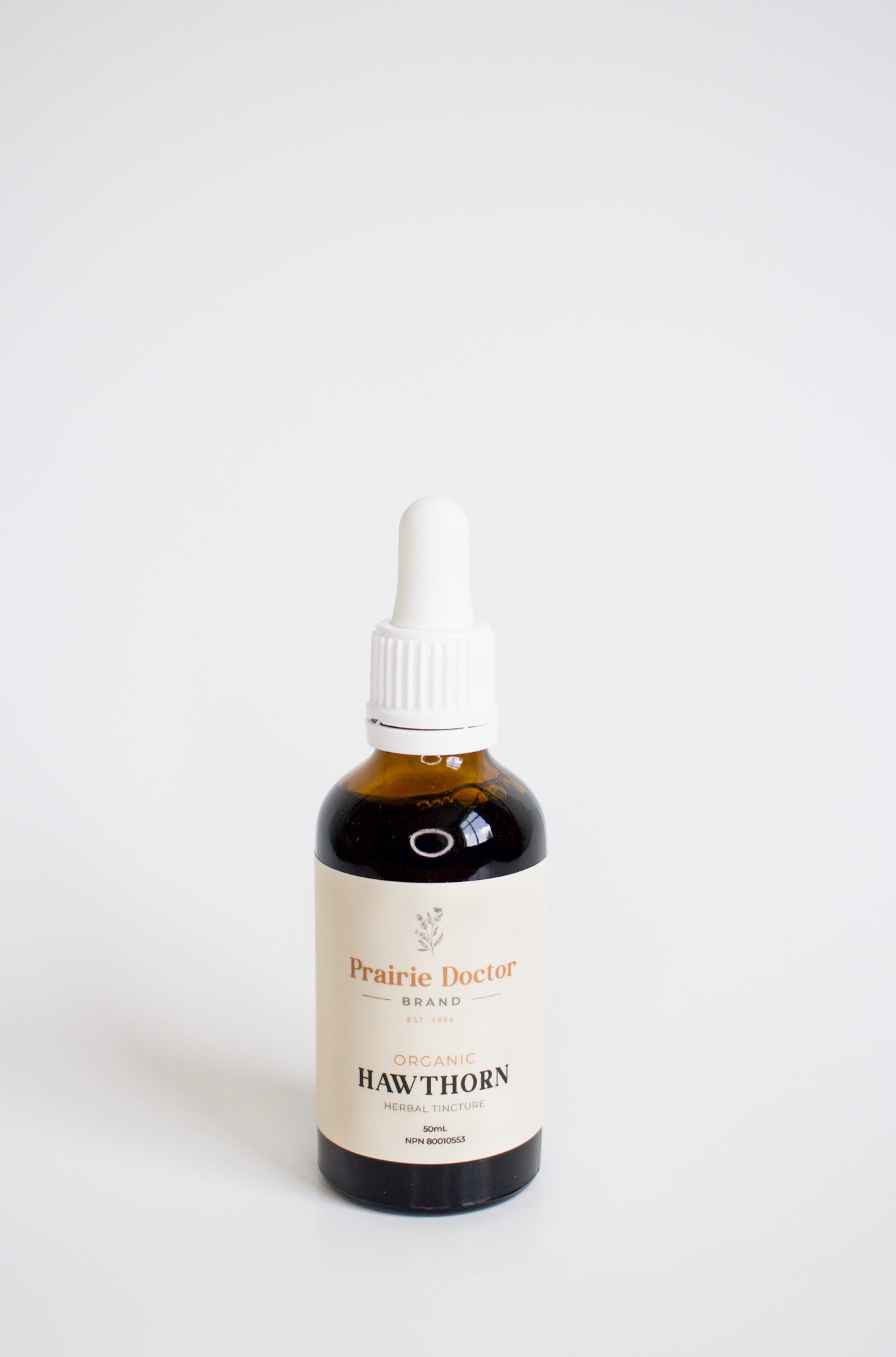 Fast delivery, Packaged with love,Great gor my High blood pressure.
Better for humans than dogs!
Strong alcohol taste and content. Spent a fortune to have it shipped to the US, only to find out it had alcohol. Wasn't able o give it to my 16 yr old terrier mix. Found a local formula that had no alcohol.
Hi Linda!
We're so sorry to hear you didn't realize there was alcohol in the tincture! We do indicate this quite clearly on both the bottle and website to ensure everyone knows. While there are some tincture options out there without alcohol, the use of alcohol in the extraction process is what yields the best results in terms of bioavailability and potency. This does result in a somewhat distinct taste - but then again we think that the benefits typically far outweigh the taste of the product.
We have had many customers use our tinctures with their pets and have incredible success. We understand each pet is different, and yours may have some characteristics that don't allow the minuscule amount of alcohol in the pet appropriate dose, but I would encourage some additional research with veterinarians such as Dr. Jones on youtube who is a big endorser of our products for pet health. :)