Prairie Doctor Brand
Regular price
Sale price
$17.00 USD
Unit price
per
Sale
Sold out
Description

Introducing our Liver Formula Herbal Tincture, a harmonious fusion of nature's finest ingredients crafted to support your well-being. This meticulously formulated blend encapsulates the essence of botanical tradition, offering a symphony of benefits for your liver health.

At the core of our Liver Formula lies a selection of time-honored herbs, each chosen for their potential contributions. Oregon grape, with its roots in North America, sweet fennel, a gentle supporter, milk thistle, celebrated for its potential detoxifying properties, sage leaf, and dandelion root, both revered in traditional practices - these elements converge to create a holistic tonic.

Our commitment to sustainability echoes in every drop of our Liver Formula Herbal Tincture. The ingredients, thoughtfully sourced and carefully proportioned, come together to support your liver's vital functions.
Benefits

May help with the following:

Formulated to support, detoxify, and nourish the liver.
- Detoxification
- Antioxidant defence
- Digestive wellness
How to Enjoy

Take the recommended serving by placing it under the tongue and swallow for best results or add it to your preferred beverage.

Recommended Dose: 1-2ml 3x per day

Warning: Hot Beverages may affect efficacy of the product
Ingredients & Info

NPN: 80035427

Extraction: 1:3 (330mg/ml) Combined

Alcohol: 50%

Grown: Organic

Origin: Varied

Part Used: Varied

Ingredients:

Organic Non-GMO Cane Alcohol, Distilled Water, Organic Milk Thistle Seed, Organic Dandelion Root, Organic Oregon Grape Root, Organic Sage Leaf, Organic Sweet Fennel Seed.

Risk Info:

Consult a health care practitioner prior to using our organic liver formula herbal tincture if symptoms persist or worsen.
Consult a health care practitioner if you have a liver disease.
Consult a health care practitioner prior to use if you are breastfeeding.
Do not use during pregnancy.
Do not use if you are allergic to anethole or plants of the Apiaceae/Carrot family.
Do not use if you have liver or gall bladder disorders, and/or bowel obstruction.
Discontinue use if you develop symptoms of liver trouble.
Hypersensitivity, such as allergy, has been known to occur, in which case discontinue use.
Share
View full details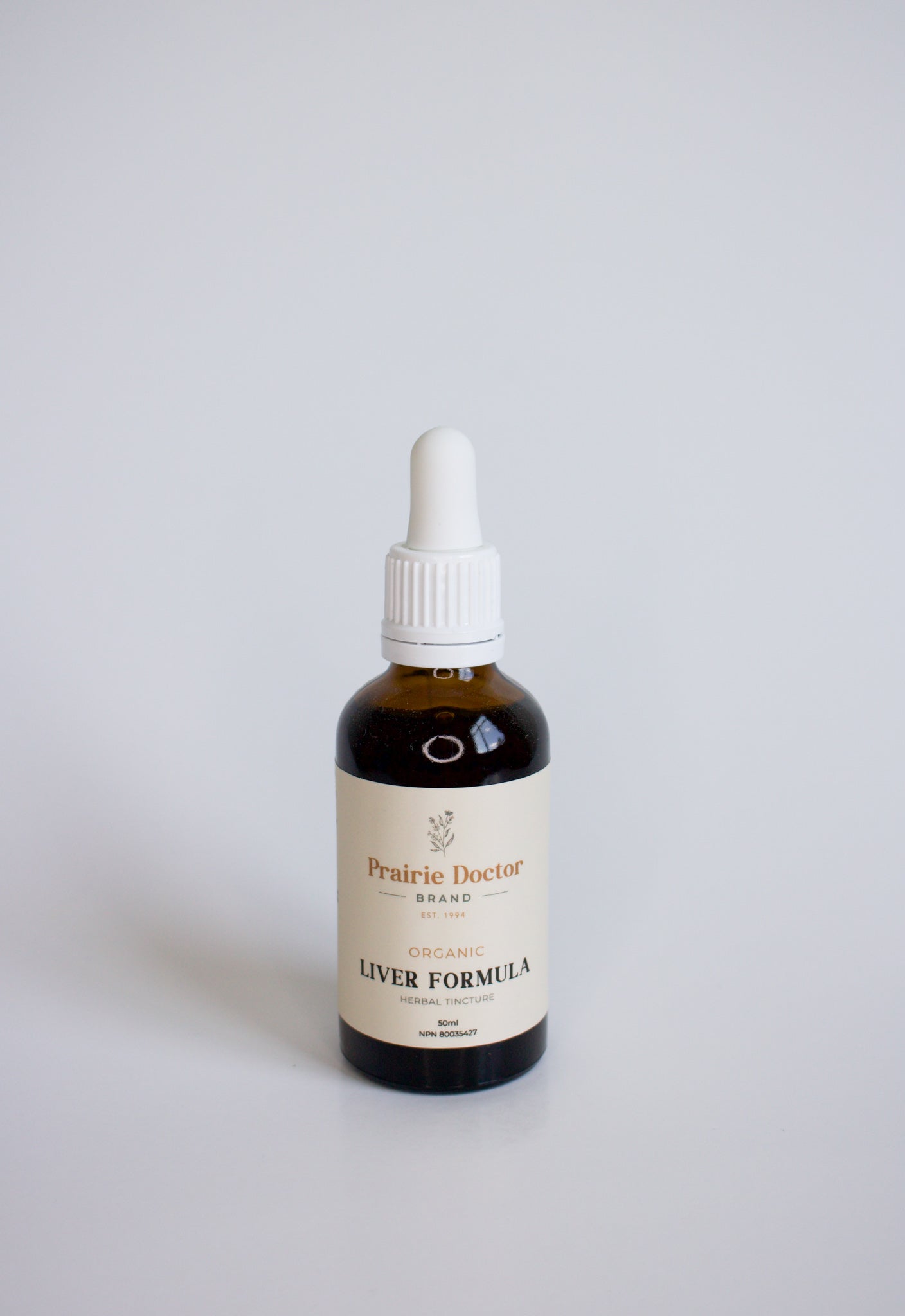 Organic Liver Formula Herbal Tincture