Prairie Doctor Brand
Regular price
Sale price
$15.00 USD
Unit price
per
Sale
Sold out
Description

Introducing our Valerian Tincture, a tranquil invitation to the calming influence of this classic botanical. Originating from Europe and Asia, valerian holds a special place in herbal traditions. Celebrated for its potential to promote relaxation and support a restful night's sleep, valerian is a cherished addition to evening routines.

Our Valerian Tincture is derived through meticulous maceration, extracting the full spectrum of this herb's potential. Sourced from a dedicated farm, our valerian is organically grown and sustainably sourced.

Benefits

May help with the following:

- Sleep aid
- Stress reduction
- Mild sedative
- Menstrual comfort
- Mild pain relief
How to Enjoy

Take the recommended serving by placing it under the tongue and swallow for best results or add it to your preferred beverage.

Recommended Dose: As a mild sedative 1-3ml 3x per day. As a Sleep Aid 1-4ml 1X per day (at bedtime).

Warning: Hot Beverages may affect efficacy of the product

Ingredients & Info

Latin Name: Valeriana officinalis

Part Used: Valerian Root

NPN: 80001775

Extraction: 1:4 (250mg/ml)

Alcohol: 50%

Grown: Organic

Origin: Pacific North West

Ingredients: Organic Valerian Root, Non-GMO Cane Alcohol, Distilled Water.

Risk Info: Consult a health care practitioner when using our organic Valerian herbal tincture if sleeplessness persists continuously for more than 4 weeks (chronic insomnia). Consult a health care practitioner if symptoms persist or worsen.

Avoid taking with alcohol or products that cause drowsiness.

Some people may experience drowsiness. Exercise caution if operating heavy machinery, driving a motor vehicle or involved in activities requiring mental alertness.
Share
View full details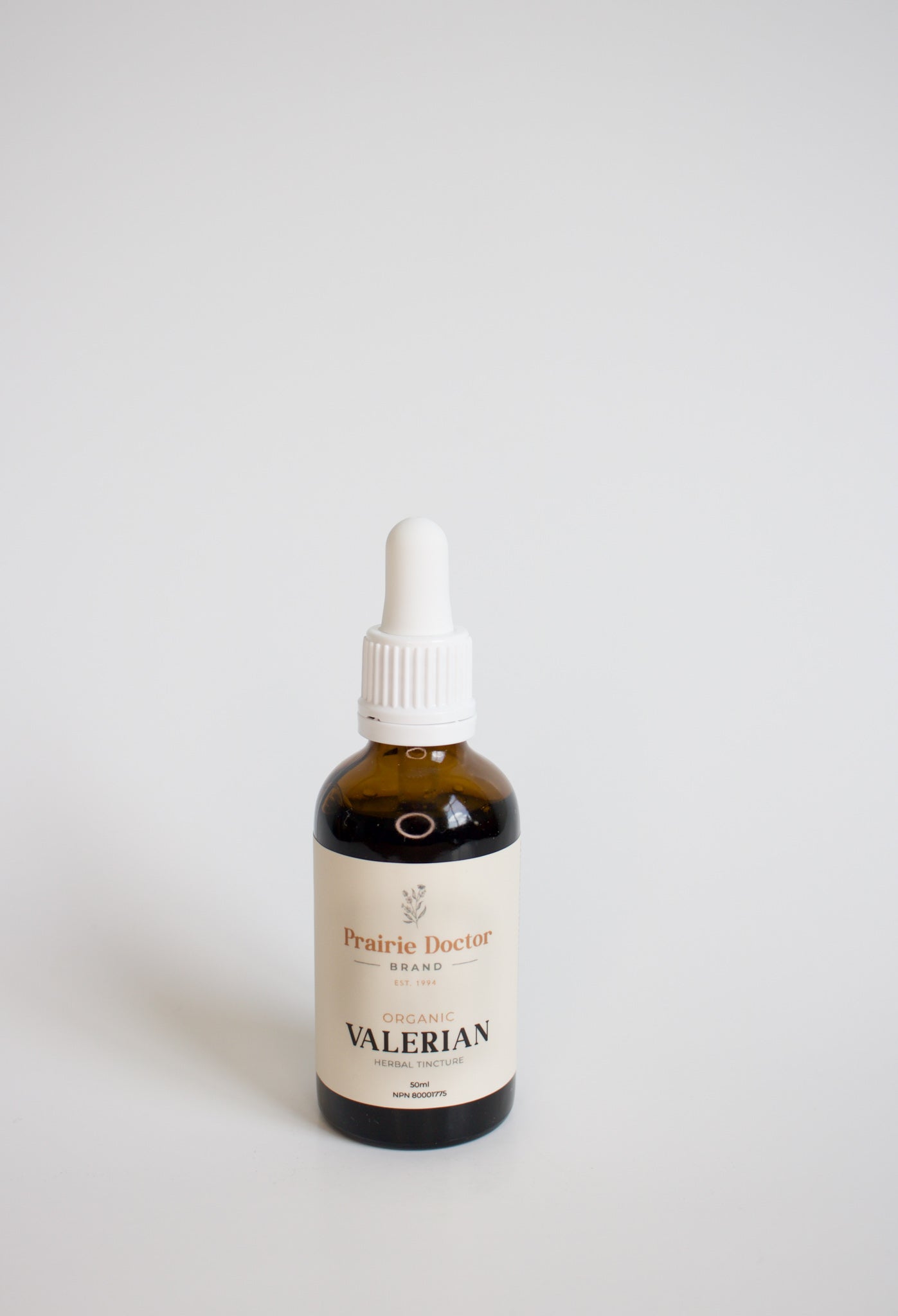 Valerian tincture
This is a wonderful product to promote relaxation and sleep. I have tried others on the market and I think this is the best.
Hi Erica!
Thank you so much for this lovely review! We are thrilled to hear that the tincture has been working well for you :)
Works well
Using this to manage my dog's chronic pain and seems to work well. She gets a marshmallow chaser for the sweetness can counteract the bitterness. We are taking the dogs on a long car trip this summer and will use the Valerian root then, too. Learnt about this herb and brand on https://www.youtube.com/watch?v=5D6HnK6-xsw
Hi Diane!
Thanks for your review, we're happy to hear this has been working well for your dog! And thank you for sharing the link to the video, we're so happy to be included in these informative videos.